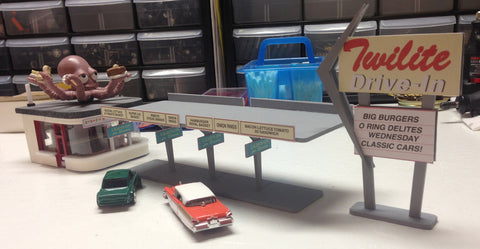 MINI-MOTORS, Inc. - Twilight Drive-In Kit
Description:
MINI-MOTORS, Inc. 
AUTHORIZED RELEASE
Twilight Drive-In Kit - Unfinished
Versatile Look - Can be painted Vintage or Modern, many build scenarios
Scale - 1:64/S-Scale

fits most cars, trucks and equipment
Resin Cast with details, laser-cut styrene
Includes:  Building with counter and accessories, roof, (1) car canopy, flooring, menu boards, signage 
Released in partnership with Twinwhistle Sign & Kit Company 
Can be assembled with standard model glue and paints.  This is a "simple-to-build" kit that comes with interior floor and counter.  
This is cast in steel-reinforced resin with a removable roof and counter inside.  Can be built for many scenarios. 
The limits of this pieces are merely imagination. 
Can also be used with other buildings sold on this site.
Additional Interior, Finish and Diecast pieces are NOT included. 
NOTE: OCTOPUS FIGURE IS NOT INCLUDED
Picture shows completed building with additional items. 
MADE IN AMERICA!!
.